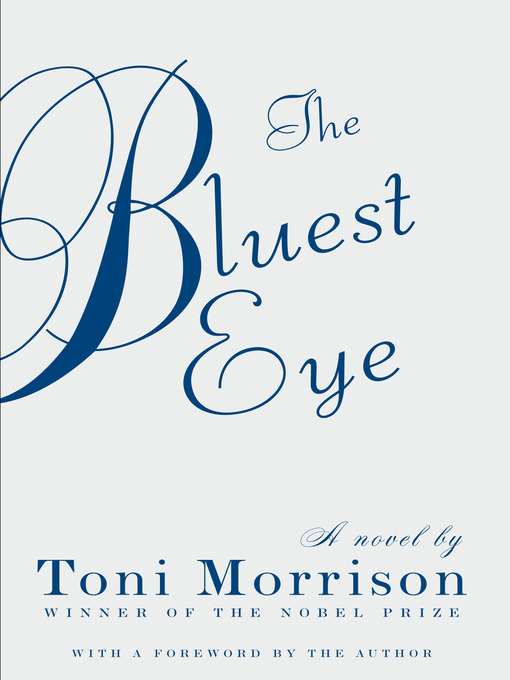 Toni Morrison
Date published: 1994
First published: 1970
Originally published in 1970, The Bluest Eye is Toni Morrison's first novel. In an afterword written more than two decades later, the author expressed her dissatisfaction with the book's language and structure: "It required a sophistication unavailable to me." Perhaps we can chalk up this verdict to modesty, or to the Nobel laureate's impossibly high standards of quality control. In any case, her debut is nothing if not sophisticated, in terms of both narrative ingenuity and rhetorical sweep. It also shows the young author drawing a bead on the subjects that would dominate much of her career: racial hatred, historical memory, and the dazzling or degrading power of language itself.
Set in Lorain, Ohio, in 1941, The Bluest Eye is something of an ensemble piece. The point of view is passed like a baton from one character to the next, with Morrison's own voice functioning as a kind of gold standard throughout. The focus, though, is on an 11-year-old black girl named Pecola Breedlove, whose entire family has been given a cosmetic cross to bear: "You looked at them and wondered why they were so ugly; you looked closely and could not find the source. Then you realized that it came from conviction, their conviction. It was as though some mysterious all-knowing master had given each one a cloak of ugliness to wear, and they had each accepted it without question…. And they took the ugliness in their hands, threw it as a mantle over them, and went about the world with it."
There are far uglier things in the world than, well, ugliness, and poor Pecola is subjected to most of them. She's spat upon, ridiculed, and ultimately raped and impregnated by her own father. No wonder she yearns to be the very opposite of what she is–yearns, in other words, to be a white child, possessed of the blondest hair and the bluest eye.