by Amanda Rock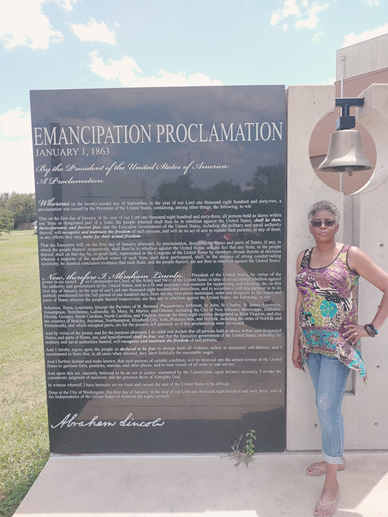 When April Kennedy was hired as a readers' advisor at the Utah State Library in 2017, she asked for time off to celebrate Juneteenth in Austin, Texas. She had to explain what Juneteenth was to her co-workers. Five years later, Juneteenth became a State holiday in Utah. 
Commemorating the end of slavery in the U.S. and celebrating unity and freedom, Governor Spencer J. Cox signed a law to make Juneteenth National Freedom Day a State holiday this year. Utah's first Black female legislator, Rep. Sandra Hollins, sponsored the bill behind the new law.
We asked April what it meant to have Juneteenth declared a State holiday. She explained, "I am truly happy … slavery is a huge part of American history, a dark part of our history, but nonetheless, a part. I believe making Juneteenth a holiday and acknowledging this part of our history makes America whole for me."
In the summer of 2020, after the murder of George Floyd, the anniversary of the Tulsa Race Riots, and the protests that followed, April saw a need for children's books addressing systemic racism. "As parents were trying to explain what was happening to their children, our blind and visually imparied patrons did not have access to books that would explain social injustice. That's when I decided to fill the void." she stated.
Patrons of the blind library now have access to a variety of children's books that explore systemic racism, including Justice for George Floyd by Tammy Gagne, The 1619 Project: Born on the Water by Nikole Hannah-Jones. There are also books that celebrate diversity, like Eyes That Kiss in the Corner by Joanna Ho and We Are Still Here!: Native American Truths Everyone Should Know by Traci Sorell and Frane Lessac. Patrons can check out recorded or brailled books.
"I think it's important to know that America is made up of so many different people and cultures. Different stories and histories that need to be shared and understood by everyone. Knowledge is power and that knowledge is learned through reading… We all have to learn to live together in peace and respect cultures we might not understand. That's what I hope the diversity book collection does for our patrons and their families." said April. 
Image Descriptions: Banner; a small chalk board on a stand reads June 19, Juneteenth. Image 1; a woman poses in front of a large plaque displaying the Emancipation Proclamation. Image 2: A smiling woman holds a copy of a children's book titled Juneteenth.