by Faye D. Fischer and Amanda Rock
Liz Gabbitas, USL Digital Equity and Education Program Manager and Cristina Reyes, USL's Rural Services Program Specialist, hosted community events for rural Utahns focused on digital equity. Lots of families attended both events and had a great time. In exchange for ice cream treats, kids shared information about their computer skills while adults won prizes for information about their internet access.
Alan Ly, USL Technology and Innovation Coordinator, was also in attendance and had a wonderful experience at the outreach visits. "I loved attending the digital equity outreach events! We went to small towns (Bicknell and Panguitch) where word of mouth spread incredibly quickly. Before we knew it, each of our events had people showing up throughout the day, appreciating what we had to offer and participating in the discussion!"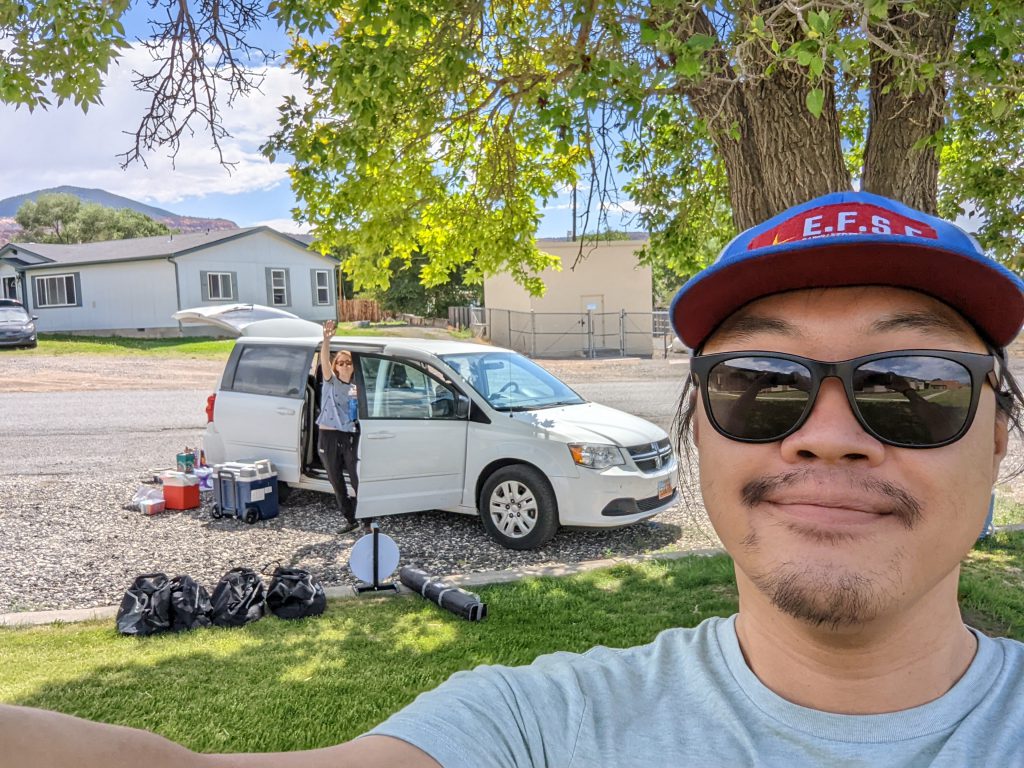 Why is digital equity so important? And what is the impetus behind USL's involvement in digital inclusion work? The National Digital Inclusion Alliance (NDIA) defines digital equity as "a condition in which all individuals and communities have the information technology capacity needed for full participation in our society, democracy, and economy." Liz Gabbitas expanded on this definition, "When so much of our day-to-day lives is online, those already left behind have even fewer resources to catch up. Digital equity means making sure everyone has the tools to succeed in today's world."
Libraries are in a unique position to help remove barriers to digital access. Libraries provide direct internet access, but can also provide internet enabled devices, tech support, and technology literacy training. The possibilities are limitless for creative librarians who have a unique understanding of local population need and are at the forefront of community advocacy.
Bookmobiles are one of the many ways the Utah State Library is bringing digital access to rural communities. Cristina Reyes defined the scope of the program, "The Utah State Library Bookmobile Program consists of five trucks that function as "mobile libraries" and five community libraries that function as headquarters. The program provides full library service, including digital services, to nine rural counties across southern Utah." She also explained the importance of the services each bookmobile offers, "As mobile libraries, our bookmobiles offer and promote digital access to ebooks, digital magazines, audiobooks, and a plethora of databases and online learning platforms found through USL's onlinelibrary.utah.gov. Additionally, our bookmobiles are mobile hotspots and provide free access to Wi-Fi while at their community stops. In the wake of the coronavirus pandemic of 2020, it became evident that free access to digital services such as Wi-Fi is more essential than ever and the bookmobile program has been at the forefront of providing these crucial services for years."
Next time you see a bookmobile driving by remember that it has more than just books inside! It may be bringing the digital access someone needs to submit a resume, apply for needed benefits, complete a school assignment, or connect with loved ones. Liz stated, "These days, being disconnected doesn't just mean missing viral moments or online fads; it also means losing your chance to participate in work, education, the social world, and even local government. A digitally equitable Utah is a Utah where everyone has the opportunity to make their mark in the information age."
So, if you happen to see some of our crew hanging out in your community, please connect with us! In addition to all the old-fashioned fun and treats USL brings to outreach events, the library also celebrates the valuable information we gain from our patrons. It shapes the work we do in real ways. According to Liz, "What we learned is going directly into the State Digital Connectivity Plan. The stories these patrons shared helped us better understand the digital divide. And understanding it is the biggest hurdle to tackling it." Thanks to all who participated in Bicknell and Panguitch!