"Poetry and beauty are always making peace. When you read something beautiful and find coexistence; it breaks walls down."

Mahmoud Darwish
April is National Poetry month. We think this is a wonderful opportunity to celebrate the poetry collection at the Utah State Library! Our collection includes many distinct and classic poets from Emily Dickenson and Sylvia Plath, to Robert Frost and Henry Wadsworth Longfellow, to Langston Hughes and Countee Cullen both powerful voices of the Harlem Renaissance. There are volumes of children's verse including the cult classics "Where the Sidewalk Ends" and "A Light in the Attic" by Shel Silverstein. You can even find a book that will help you understand and intelligently criticize the poetry you read, like "How to Read and Interpret Poetry," a simple study guide.
Utah Poetry
The State Library also houses many volumes of work specific to Utah and the Intermountain West. Volumes like "Woven in the Wind" a collection of poetry (and prose) about female friendship in the sagebrush west and a bizarre but beautiful 254 page poetic tribute to the Donner Party. Utah has a long history of celebrating the creative, and our state has nurtured many poets both amateurs and those who have published to a larger audience.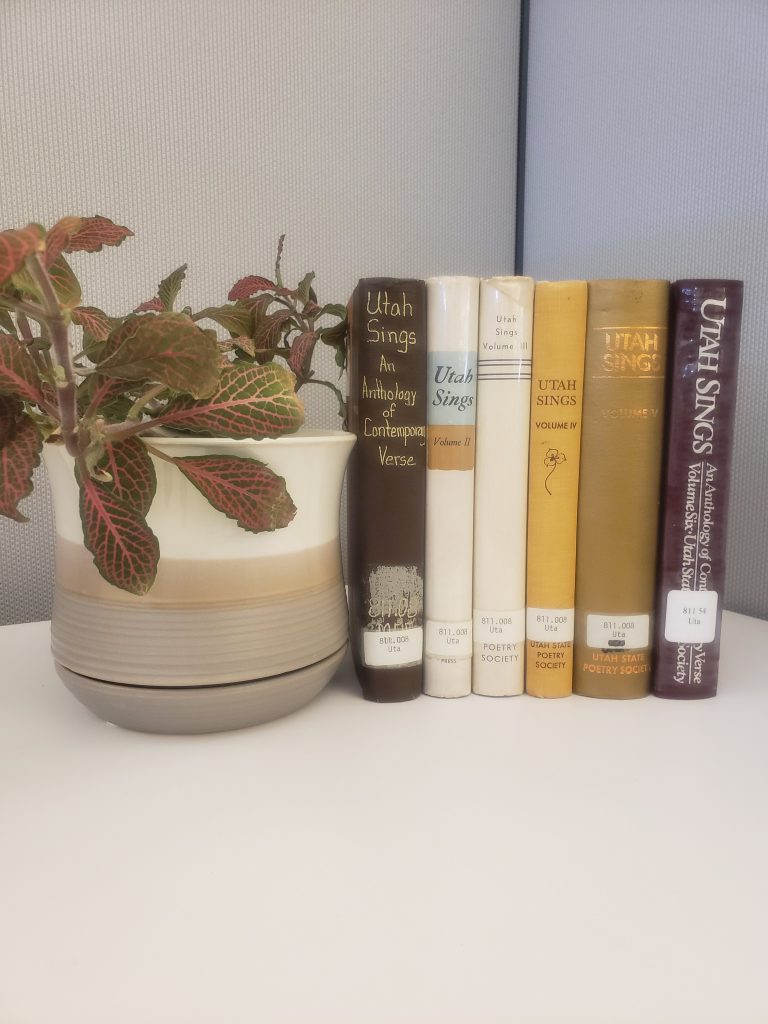 Of particular interest is a series of anthologies titled "Utah Sings" that are compilations of contemporary verse. The first two volumes were published by The Utah Academy of the Arts in the 1930s and 40s. Subsequent volumes have been published by the Utah Poetry Society every 10 years. The most current volume was published in 2015. These books are true gems. The anthology was envisioned to commend living Utah writers and spark a renewed interest in verse. The poetry covers a wide variety of topics, but nature and the landscape has an especially powerful tug on the heart of a Utah poet.
Like this poem titled "Great Salt Lake" by Jessie Miller Robinson.
Sterile, passionless, bitter—
You lie before me.
Men call those
Who live beside you
Sterile, passionless, bitter—
Dead Sea fruit.
But there are many
Like the mountain streams
Above you—
Bright with running laughter,
Dwelling near the clouds
In lofty thought,
Crystal pure and sweet
With loving deed
And inspiration.
Not all
In this valley
Are yours,
Dead Sea.
This seems not only a comparison between the stark desolation of the lake against the back drop of the mountains but a spirited commitment to remain unjaded in a world that had just narrowly survived its first global conflict.
Make this Month Meaningful
How can you make this month more meaningful and feel more connected to the poetic around you? The introduction to the second volume of "Utah Sings" contains a few helpful suggestions. "One is by adventuring more widely among the classics and among modern poems of the better sort, for both the delight of it and the lessons of artistry to be learned. Another is by recognizing more frequently in Utah the sensuous and concrete raw materials of art."
In a world that seems to be growing increasingly chaotic, poetry is a way to slow down, find peace and healing, connect with the natural world, and safely experience or express emotions. We hope you find a special way to celebrate poetry this month.
All of the poetry books in the state library collection are available to you and your patrons through interlibrary loan.
Please note: the six volume "Utah Sings" collection does not circulate because they are rare and irreplaceable. If you would like to see them, you can come to the Utah State Library.
Utah's Poet Laureate
What do you know about Utah's poet laureate? Click here to learn more about her and to book an event for your library.
We would love to hear what you are doing to celebrate National Poetry Month in your libraries! If you would like to share something with us, please reach out to Faye Fischer ffischer@utah.gov.
Sources:
Merrill, H. R., Brandley, E. T., & Culmsee, C. (1934). Utah Sings, an Anthology of Contemporary Verse. (Vol. 1). Utah Academy of Sciences, Arts and Letters.
Culmsee, C. (1942). Utah Sings, an Anthology of Contemporary Verse. (Vol. 2). Utah Academy of Sciences, Arts and Letters.