by Faye D. Fischer
There is something that happens when you can feel that cool edge in the air, and the leaves begin to change; a primal physiological shift telling you to settle in and slow down. It's time to gather the harvest and start baking again! It's time for soups and stews and the hearty meals you just didn't have the fortitude to prepare or the will to eat in the seemingly endless stretch of 100° days.
Did you know that the Utah State Library has a large collection of cookbooks to help you ease into your autumn and winter state of Hygge? There are books on cakes, cookies, pies and all the delectable treats. Recipes from around the world with tastes from every continent, unique cultures, and interesting fusions. You can make recipes inspired by your favorite pop culture fandom like the prefect roast lamb with mint sauce from The Official Downton Abby Cookbook, or whip up some tasty Rancor claws, or Mos Eisley Cantina munchies from Star Wars Galactic Baking. Feeling brave? You could explore home food preservation, jams or preserves.  There are plenty of books for vegans and vegetarians. Vegan Junk Food is full of recipes that recreate all those crave-able favorites. There is even a guide book that makes the bold foodie claim, Brunch is Hell How to Save the World by Throwing a Dinner Party. You are sure to find a dish just right for you!
To get you started, here is the perfect autumn recipe for Candied Apple & Pear Bundt Cake from The Bundt Collection 131 Recipes for the Bundt Cake Baker.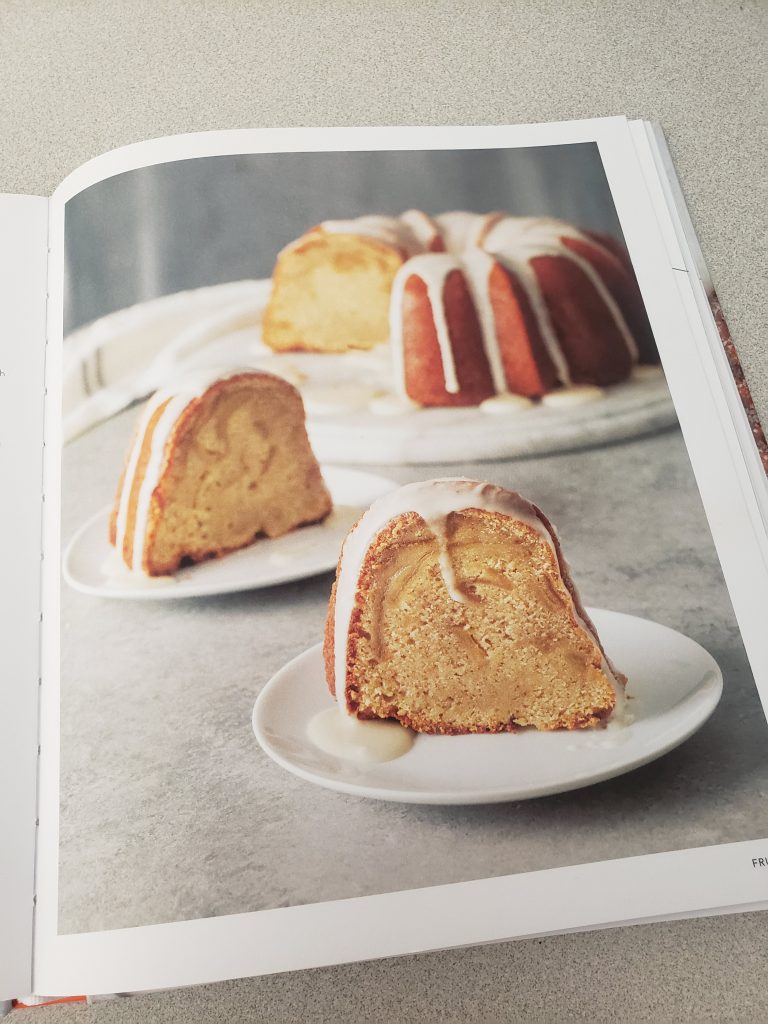 3 cups granulated sugar, divided
½ cup can syrup
1 ½ cups plus 2 tablespoons unsalted butter, softened and divided
2 large Granny Smith apples peeled, cored, and sliced
2 pears peeled, cored, and sliced
5 large eggs
2 teaspoons vanilla extract
1 ½ teaspoons kosher salt
1 teaspoon grated fresh nutmeg
½ teaspoon baking soda
1 cup sour cream, room temperature
Cane syrup glaze*
Preheat oven to 325°F (170°C).
In a large skillet, bring 1 cup sugar and cane syrup to a boil over medium-high heat; cook, stirring constantly, until sugar dissolves, about 2 minutes. Stir in 2 tablespoons butter until melted. Add apple and pear; reduce heat to medium, and cook, stirring occasionally, until fruit softens, about 12 minutes. Remove from heat, and let cool completely.
In the bowl of a stand mixer fitted with the paddle attachment, beat remaining 1½ cups butter and remaining 2 cups sugar at medium speed until fluffy, 3 to 4 minutes, stopping to scrape sides of bowl. Add eggs, one at a time, beating well after each addition. Beat in vanilla.
In a medium bowl, whisk together flour, cinnamon, salt, nutmeg, and baking soda. With mixer on low speed, gradually add flour mixture to butter mixture alternately with sour cream, beginning and ending with flour mixture, beating just until combined after each addition.
Reserve 2 tablespoons syrup from fruit mixture for Cane Syrup Glaze. Gently fold fruit mixture and remaining syrup into batter.
Spray a 15-cup Bundt pan with baking spray with flour. Spoon batter into prepared pan. Tap pan on a kitchen towel-lined counter a few times to settle batter and release any air bubbles.
Bake until a wooden pick inserted near center comes out clean, 1 hour to 1 hour and 10 minutes. Let cool in pan for 10 minutes. Loosen cake from center of pan using a small offset spatula. Invert cake onto a wire rack placed over a parchment paper-lined rimmed baking sheet, and let cool completely. Drizzle Cane Syrup Glaze onto cooled cake.
*Cane Syrup Glaze
2 cups confectioners' sugar
2 tablespoons whole buttermilk
2 tablespoons fruit-cane syrup, reserved from Candied Apple & Pear Bundt Cake
In a small bowl, whisk together all ingredients until combined. Use immediately.
Note: If your local grocery stores don't carry cane syrup, consider substituting with Lyle's Golden Syrup, a popular British brand often sold in the international aisle in stores.
All of the cookbooks in the state library collection are available to you and your patrons through interlibrary loan. What recipes will you try this cozy season? If you bake this cake, we want to hear about it! Send photos to ffischer@utah.gov and we will share them.
Hoffman, B. H. (2020). Candied Apple & Pear Bundt Cake. In The bundt collection: 131 recipes for the bundt cake baker (pp. 94–95). essay, 83 Press.