Earlier this year the Utah State Library Board elected Rebekah Cummings as the new board chair.
Rebekah Cummings is the Interim Director of Digital Matters at the University of Utah Marriott Library where she coordinates digital humanities research, teaching, and support. Prior to her current position, Rebekah was the Assistant Director of the Mountain West Digital Library and the Data Management Librarian at the Marriott Library. In 2018 – 2019, Rebekah served as the Utah Library Association President and has since co-chaired the ULA Advocacy Committee. Her professional interests include data management, copyright, metadata, and library advocacy. Rebekah has a BA in Philosophy from California State University, Long Beach and an MLIS from the University of California, Los Angeles with a specialization in data curation.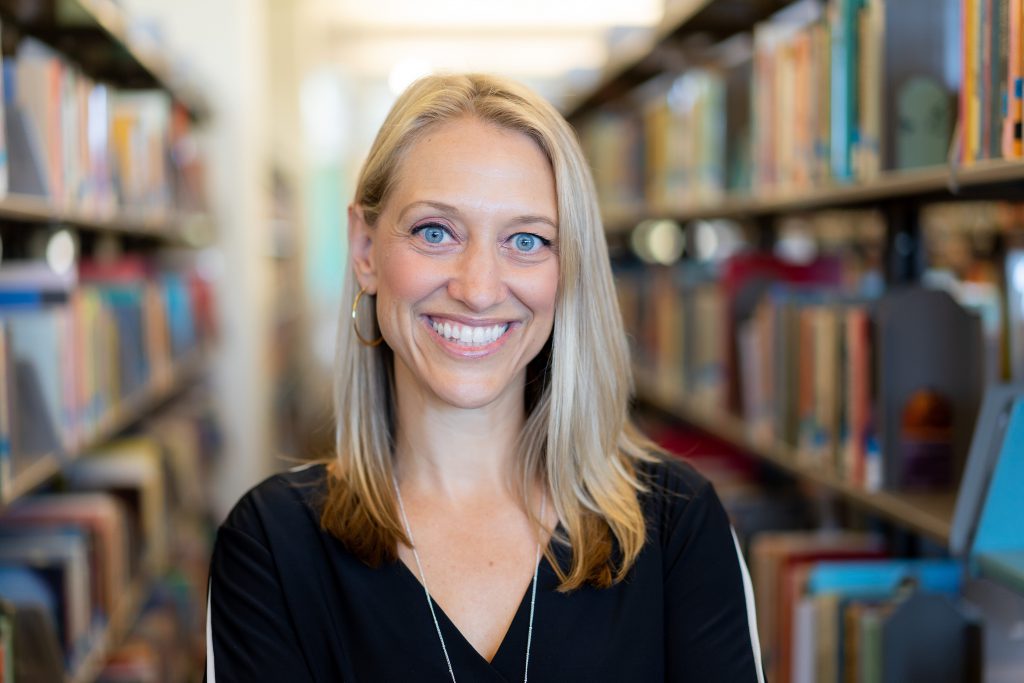 We recently reached out to Rebekah with a few questions.
Why are libraries important to you?
It's always hard for me to disentangle why libraries are important for me personally from professionally. Like most librarians, I was a voracious reader growing up. My parents weren't big readers, and we didn't have a ton of books at home – certainly not enough to keep pace with the rate at which I was burning through them – but we went to the library frequently. Those days always made me feel like a kid in a candy store. A few years later in my early 20's, I moved to Mammoth Lakes, a tiny town in the Eastern Sierra Mountains, to be a snowboard bum for a few years. I was new to town, a little lonely, and wandered through a creek by my new house to discover I lived two minutes walking distance from the local library. A familiar golden warmth flooded my body as I revisited some of my favorite books for the rest of the afternoon. It felt like coming home again. The library served me differently but no less critically a few years after that as a young mother on a tight budget with books and storytime for my littles and a way to connect with other moms for me. After working in libraries for 13 years, I now know that libraries have a "room of requirement" quality in how they meet different needs for different people at different stages of life. Libraries are flexible, welcoming, safe neighborhood spaces that offer entertainment, information, connection, technology, and a sense of community. They are one of the few spaces where you don't have to buy or believe anything. I know vocational awe has fallen out of fashion, but, whether I work in them or not, libraries will always have a special place in my heart.   
What are your goals/vision for your term as board chair?
Being new to the position, I'm still in the process of figuring out how I can best support the great work already happening at the State Library. I feel grateful to have the opportunity to contribute to shaping policy, building community, and communicating the important work happening in libraries across the state. For the past five years, I've worked closely with Peter Bromberg, my Utah Library Association Advocacy Co-Chair, on building relationships with our elected officials and empowering librarians to do the same to make sure that the people making decisions that affect library issues and funding at the state and local level are familiar with the great work happening in libraries. As Board Chair, I'm excited to become more familiar with library work happening around the state and continue advocating for library funding and support through stories and data.
What are you reading?
I just finished reading Our Missing Hearts by Celeste Ng, a beautiful book that explores timely themes around censorship, control, injustice, the power of art and story in affecting change,  and the role of parents in both protecting and empowering our children. Ng is an exquisite writer who makes a classic story feel fresh and almost unbearably relevant in 2022. Librarians serve as protagonists in the story in a way that doesn't feel like cheap platitudes to our often fetishized profession but rather authentically reflects our professional commitment to personal inquiry and connecting people to information. Highly recommend! I also just downloaded The Sum of Us: What Racism Costs Everyone and How We Can Prosper Together by Heather McGhee who is giving a talk on November 17th at the U. I haven't read it yet, but McGhee's TED Talk on the collective cost of racist policies has me excited to read the book and hear her speak in a few weeks.
Is there anything else you would like to share? 
Thanks to anyone reading this for the good work they do in the face of so many challenges, especially over the past two years. I would also encourage you to get involved with the Utah Library Association and get to know your elected representatives to make sure they know in what specific ways their local library and librarians are positively impacting their community. We can't take for granted that everyone knows the wide variety of services that libraries provide in 2022 and the critical role we play in strengthening families, communities, education, well-being, democracy, health, business, and quality of life!
Thank you to Rebekah! We look forward to your term as board chair. Click here to learn more about our library board.